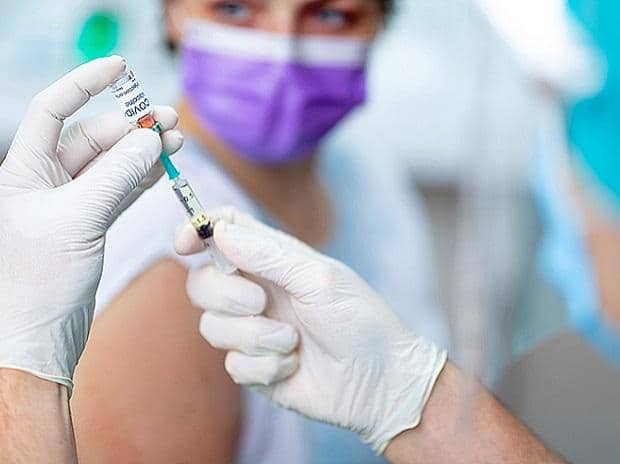 Even as experts are saying that the vaccines are the only tool to fight the deadly coronavirus outbreak, a recent study has revealed that a total of 7 per cent of the population in India is still reluctant in getting the jab. The study conducted by the online community platform LocalCircles received 12,810 responses from citizens — 67 per cent men and 33 per cent women — across 301 districts. According to the researchers of the study, the result suggests that an overall 46% of unvaccinated citizens plan to take their first dose soon. However, they also said that almost 27% of citizens who do not plan to take the vaccine yet as they are not convinced whether the currently available ones provide enough protection from the current and future variants of coronavirus.
7% Population Reluctant To Get COVID Jab: Here's What Stopping Them
As the study found that almost 7% of the total population of India are still not convinced that a vaccine dose against COVID-19 may protect them from suffering the severity of the infection. Here is a list of apprehensions expressed by some citizens for their hesitancy.
Some people are concerned about the emergency approval of vaccines, as according to them the trials were not complete when the health authority of the country approved the use of the vaccine.
Some respondents also cited their concerns about the possible side effects of the vaccine. In the recent past, some (a very low number) of people who received the vaccine jab complained about major side effects of the COVID-19 vaccine, such as myocarditis, skin rashes, etc. Some with underlying co-morbidities also died after suffering these side effects.
Another group of people also stated that due to their underlying health conditions, they are worried about suffering from blood clotting, one of the deadliest side effects of the COVID vaccine, which may also lead to sudden death.
Some also cited COVID going away as the reason for them to not get vaccinated.
According to the feedback received, there are also certain other myths and misinformation holding people from taking the vaccine.
"Safety concerns, quick clinical trials, rushed vaccine approvals, side-effects were among apprehensions expressed by some citizens for their hesitancy," a researcher told the media. However, the good news is when the vaccination drive began in India in January, the vaccine hesitancy stood at 60% which drastically reduced during the brutal second Covid wave that hit India in April-May.
(With inputs from Agencies)
Total Wellness is now just a click away.
Follow us on